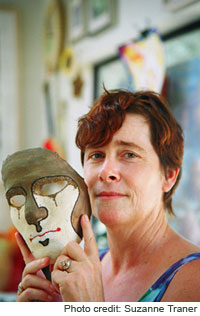 Raina Carman was born in Gloucester, Massachusetts. Being three months old when her family moved to Southern California, Raina has spent the majority of her life in California. Her interest and skill as an artist was evident from the time she could hold a pencil. As a child Raina found great pleasure in drawing. It was an excellent way for her to learn about the world around her.
At twenty, Raina began her formal education in art at El Camino College. There she found a wonderful community of fellow students and artists eager to develop themselves and their art work. Through this community, Raina found work first as a children's art instructor. Later she found work as color separator at Morrosstudio making limited edition serigraphs. The process of recreating another artist's work and analyzing the colors to mix each one for printing was an invaluable experience. After three years, Raina left Morrosstudios to study with several private teachers and to explore her own approach to creating art. This began a time where painting outside in nature was Raina's passion. The Santa Monica Mountains were a particularly favorite place to roam with her watercolors in her backpack.
In 1993, Raina moved from Redondo Beach to north county San Diego. Establishing her own studio Raina felt it was time to allow her art work to be her own. At this time Raina began to explore her inner landscape, working with mandalas as a template. As her art life developed Raina began a career in the healing arts as a massage therapist and soon began to teach massage at Healing Hands School of Holistic Health. Raina finds great reward and inspiration teaching massage. She feels very blessed to have the ability to paint, draw and express her art freely. Raina is now Raina Carman Colvin and lives with her husband and all their critters in Valley Center, surrounded and shaded by the many oaks that populate their home.